QASH Token Sale, QUOINE's first and long-awaited token offering, will be launched on October 21st at 00:00:01 (Singapore time/ UTC +8 hours). This is an event that has been expected by thousands of the company's long term users and investors.
At QUOINE, our mission is to become the largest financial institution in the crypto / blockchain world and to make positive social impact. As part of this mission, we are creating LIQUID, a financial utility that will bring together the global network of cryptocurrency exchanges to provide liquidity for the illiquid crypto economy. Along with this is the launch of own ICO (Initial Coin Offering / Token Sale). Registration for the ICO / Token Sale begins today on our website: https://liquid.plus
The launch of the QASH ICO will make QUOINE the first regulated exchange in the world to do a Token Sale.
Yesterday night (10/2/2017), on QUOINE's ICO telegram group, Mike Kayamori, founder and CEO of QUOINE came out and answered a burning question from the QUOINE community: "Why raise $150 million?" Mike shared a few great insights with us from our Telegram channel, which we have reproduced here.
"First, we are solving a real and serious problem that is providing liquidity to non-liquid token market. There are over 1000 crypto tokens in the world and it will double within the next year. Almost all tokens (excluding BTC/ETH) are illiquid. We are using half of the proceeds to provide liquidity to these tokens as well. So when you look at our whitepaper, it shows that half will go to providing liquidity as a market maker and liquidity provider. The remaining portion goes to product development, operations, legal, etc. When you look at traditional finance, large financial institutions such as GS, ML, Citi, Morgan who provide liquidity: they actually provide liquidity in the tens of billions of dollars. From that perspective, we should actually raise more."
And here is the call for community action from Mike and the QUOINE team.
"As you know, we are solving a big problem. We can't do this ourselves, or else we have to raise billions of dollars. That is why we built the LIQUID platform. This way we welcome all investors (retail, institutions, hedge funds, family offices, etc.) so that they can provide liquidity as well. We want the crypto token economy to go mainstream. Our LIQUID platform which aggregates all major exchanges in the world to one single trading platform, combined with the prime brokerage service, will allow everyone in the crypto space to benefit and contribute to LIQUIDITY."
Our core product technology (Matching engine, Smart Order Routing, Real time currency conversion engine) is already used in our existing trading platform QUOINEX and QRYPTOS. We have zero product development risk. Also, we are solving a fundamental problem, which is lack of liquidity. So we are at a very different stage from other ICOs that still have significant product development risk. Coming from the Venture capital world, 90% of startups fail. We have already gone past that stage.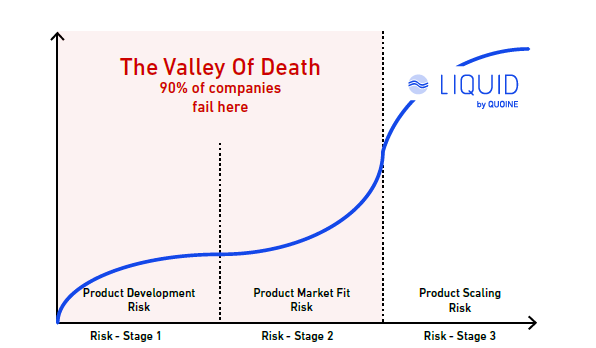 In regards to cryptocurrencies' direction to become mainstream, Mike also commented:
"One direction is to go down the dark path. When I want to send crypto tokens, even if I don't disclose my physical name, the public will know how much I am sending. In the real world, I don't need to show anyone how much I am sending and to whom. This should be private. The other direction is to go white and bright. We at QUOINE are going this route to work with global regulation, to work with existing financial industries, and to make crypto tokens mainstream so that everyone can use them.
That is why our crypto-fiat exchange QUOINEX is the first regulated and licensed exchange in Japan. Regulation is happening everywhere and we are embracing it because our mission is to make crypto token mainstream."
On the future of QASH:
"I believe our QASH Token will be top 3 in global crypto market cap within a couple of years at the latest. I want everyone who shares this vision to join our journey.. It is going to be amazing. You should see our management team and our directors and angel investors. The only way to assemble such a team and supporters is because we all share in the same mission."
At QUOINE, we believe the future of finance is distributed. Democratization of finance has begun. The power is in everyone's hands. Be part of the QUOINE revolution and join our communities on Telegram and Slack today at: Telegram and Slack.